Changes Proposed to Make Milwaukee Avenue Corridor Safer
Chicago Department of Transportation hosts public meeting in Wicker Park to announce new bike boxes, crosswalks and lower vehicle speeds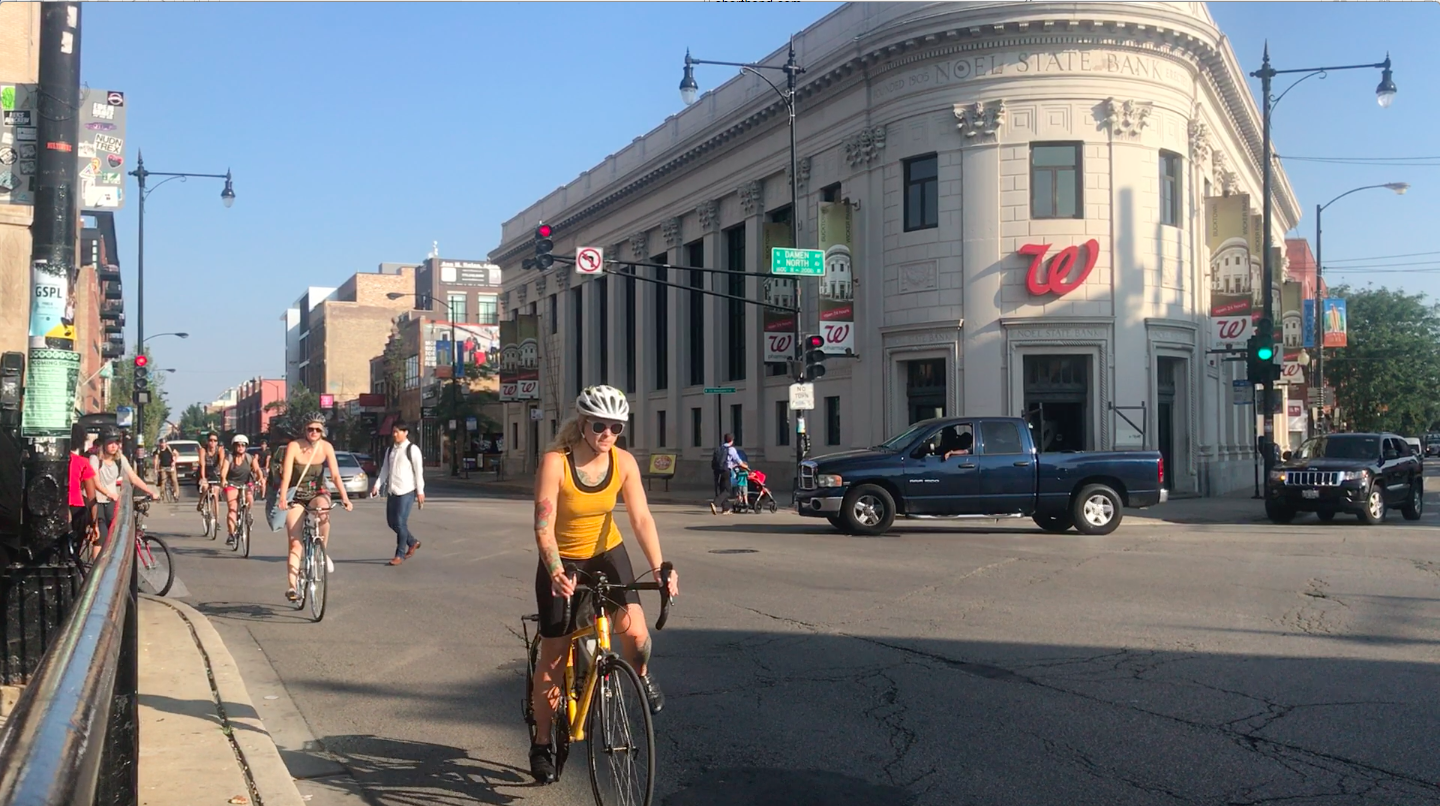 In response to a growing number of accidents on Milwaukee Avenue in Wicker Park, the City has proposed changes to the corridor to make it safer for those crossing it daily.
Speaking at the A.N. Pritzker School's auditorium in Wicker Park last month, Mike Amsden, who is the assistant director of transportation planning for the Chicago Department of Transportation, presented proposed improvements at a community meeting.
While still being finalized, they included reducing vehicle speeds to 20 mph and creating more space for cyclists and pedestrians with more visible crosswalks and bike boxes, where the bike lane extends in front of vehicle traffic at an intersection. As 68 percent of serious injury crashes have been pedestrian- and cyclist-based on this section of the corridor from 2010 to 2014, these "low-cost, quick hit" changes will help improve safety before the avenue is reconstructed in the coming years, Amsden said.
"We cannot accept people dying on the streets just trying to get from one place to another," Amsden said during his presentation.
CDOT, the Wicker Park Bucktown Special Services Area and local aldermen are leading these improvements as part of the Wicker Park Bucktown Master Plan, which aims "to eliminate all traffic fatalities" in the area, according to its website.
Jim Merrell is the advocacy director for the Active Transportation Alliance, which hosted a 'Mobilizing for Milwaukee' event in June. There he spoke about the corridor's reported 195 cycling injuries, 54 pedestrian injuries and one pedestrian fatality cited between 2011 and 2015, which highlighted the corridor's safety issues. 2013 had 47 cyclist accidents, the highest amount of crashes from 2012 to 2015, according to an analysis of Illinois Department of Transportation data.
At a meeting last May, community members asked for dedicated bike lanes, improved crosswalks and fewer parking spaces, Amsden said. Active Transportation Alliance gathered more than 1,500 signatures from cyclists and local residents between both meetings in addition to hosting the Mobilizing for Milwaukee event in support of the corridor's changes, Merrell said.
While Amsden spoke about five different intersections between Division Street and Armitage Avenue during the meeting, he focused on the intersection of Milwaukee, Damen and North Avenues. That intersection has had the highest concentration of cyclist and pedestrian accidents, according to CDOT data from 2010 to 2014. It has also garnered the most attention from residents and cyclists due to its width and volume of users, said Amsden and other meeting attendees.
"[The intersection] is very dangerous," said Mario Marocco, a Wicker Park resident who attended the Mobilizing for Milwaukee event. "Whenever I ride through there mainly out to work and on the weekends, I'm white-knuckled the entire time since you're waiting for someone to open a door. I feel like it's more the norm than the exception."
For that intersection, CDOT won't be removing parking spaces to make room for separate bike lanes now, but it will be adding two new crosswalks, bike boxes and bump outs, which will extend curbs to slow down traffic. CDOT will also close an underutilized slip lane, according to Amsden's presentation.
"I think [the new crosswalks] will help instruct to cars and even bikers to say, 'hey, you got to hold on, these folks need to cross here and they get to,'" said Brandon Antoniewicz, a longtime Wicker Park resident and meeting attendee. "Hopefully that just makes the area a little calmer and reduces accidents or just tempers."
For cyclists, the highest number of accidents occurred between North Avenue and Division Street with 45 crashes from 2012 to 2015, according to analysis of Illinois Department of Transportation data By contrast, 23 accidents occurred between North Avenue and Armitage Avenue. Alisa Hauser, a DNAinfo reporter and Wicker Park resident, said the narrowness of Milwaukee Avenue between Western Avenue and Division Street is a factor in the corridor's safety problems.
Ald. Brian Hopkins of the 2nd Ward spoke during the meeting and said he has heard skepticism from residents about whether these enhancements will actually occur. While plans aren't finalized yet, he assured the audience of more than 30 Chicago cyclists and Wicker Park and Bucktown residents that the proposed plans - excluding the new crosswalks - will break ground in the fall.
"Government moves slow until it starts moving fast, and that's the case here," Hopkins said during the meeting. "There's been significant progress made in a short period of time. Things can change when we have three aldermen fully on board, which we are. Myself and my colleagues, [1st Ward] Ald. Moreno and [32nd Ward] Ald. Waugespack, are in complete agreement and complete support of the need."
Some attendees were hoping CDOT would implement bike lanes, yet they were pleased to hear about these initial changes, especially the new bike boxes and crosswalks at the Milwaukee, Damen and North intersection.
"Anything is better than nothing at this point," said Bobby Zylstra, an attendee at the meeting. "One of the biggest positives is the bike boxes because that's one of the most powerful things for cyclists is to get visible and in front of vehicles just so they know you're there. That allows them to get a head start, so you're not going to get run over."
CDOT hopes to incorporate feedback from June's meeting into the proposed improvements and is waiting on the City's traffic engineers to approve the new plans. With pedestrians, cyclists, vehicles and buses all using the corridor, CDOT is trying to prioritize improvements that "hopefully lay the groundwork for future improvements down the road," Amsden said.
As attendees left the school's auditorium, there were tables with intersection maps where they could mark changes they wanted to see. While attendees had a range of opinions of what to improve, most agreed they wanted to see a calmer Milwaukee Avenue for all.
"You got to have that vibrancy of people around and if people don't feel comfortable or if they feel like going down there is just a hassle or it's too loud or too many cars or too dangerous, they won't," Antoniewicz said. "so if we can slow it down a bit, [that would be] cool."